Thursday February 25th, 2021
Tweet
Secretary of State Brandon Lewis, alongside Northern Ireland Executive ministers, and local partners, will sign the Heads of Terms for the Derry/Londonderry and Strabane City Deal.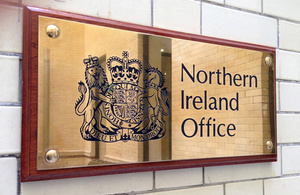 Signing the Heads of Terms on the Derry/Londonderry and Strabane City Deal is an important milestone towards the completion of this major investment package for the North West.
This Deal will boost the economic potential of the region and support a more prosperous, united community and stronger society. The UK Government's investment in digital and innovative projects will deliver a step change in the North West's economy, spread opportunity and empower the North West to become an engine for growth.
The UK Government is investing £105m in capital over 15 years through this economic package. This investment has secured match funding from the Northern Ireland Executive which, supplemented by up to £40m in private sector and local council contributions, provides a total investment for the region of up to £250m.
The UK Government's investment will support the new Graduate Entry Medical School at Magee as well as a suite of projects that leverage the North West's existing advantages in digital communications and reflect priorities identified in the UK's Industrial Strategy on artificial intelligence, data and the future of healthcare.
It is hoped the investment package will see the delivery of ten major projects, with a focus on Innovation, Digital and Health projects alongside Renewal and Regeneration initiatives. The proposed projects have the potential to deliver an additional 7,000 jobs, increase GVA by £210m per annum, drive growth in output and wages and provide a population boost as further people are attracted to come to the City region to work and study.
Northern Ireland Secretary, Brandon Lewis MP said:
"I am absolutely delighted to sign the Heads of Terms for the Derry/Londonderry and Strabane City Deal. The UK Government has committed £105 million of capital funding to support and encourage economic development across the region, creating jobs, boosting opportunity and encouraging further inward investment.
This announcement is part of the UK Government's commitment to developing and delivering a comprehensive and ambitious set of City Deals across Northern Ireland and delivering a stronger economy that works for everyone."